PM360 Presents The 2015 Greatest Creators
PM360's annual showcase of some of the best creative work from agencies serving the life science industry from the past year. STRIKEFORCE explains the creative process behind their campaign and lists the people responsible for working on it.
Click here to see more great creations from STRIKEFORCE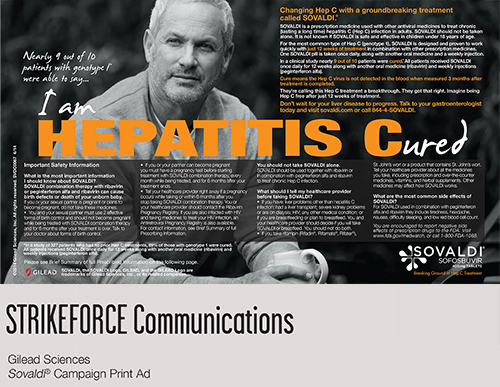 In 2014, Gilead Sciences tapped STRIKEFORCE to launch Sovaldi, a breakthrough treatment for hepatitis C. Sovaldi represents a total transformation in Hep C, with unprecedented efficacy, a significantly shorter course of treatment and a more favorable profile than previous regimens.
Gilead wanted a campaign that was big and bold that represented the groundbreaking nature of Sovaldi. So STRIKEFORCE went into action and deployed its unique Precision Pairing philosophy, which selectively pairs the right resources with the individual needs of each assignment. The result is a campaign that is bold and breakthrough, using a typographic technique to "own the cure" and deliver on what every Hep C patient aspires to be—Hepatitis Cured.
The campaign helped Sovaldi become one of the most successful drug launches in history.
Creative Director: Amanda Van Doorene
Agency Management: Mike Rutstein, Patricia Prugno
Account Team: Marlene Cookson-Wallace, Kashmira Patel